Gary Wayne Freeman
Painter, Printmaker, Educator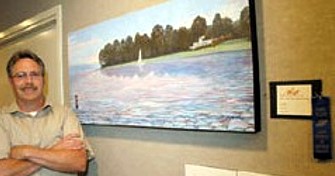 Gary Wayne Freeman is an American painter and printmaker known for his Carolina landscapes and architectural studies. He has been a working artist for more than 30 years with numerous exhibitions, awards, and commissions to his credit.
He finds his subject matter by exploring the Piedmont and Foothills near his home in the wonderful small town of Cherryville, North Carolina. He enjoys teaching and has been an art instructor since 1982. He retired from Gaston College in 2014, taught 4th, 5th, 6th, and 7th grade art at Langtree Charter Academy for the 2015-16 school year, and is now the owner of Heritage Park Art Center in Cherryville, NC. 

The larger paintings by Freeman take months to finish and are usually preceded by digital reference photos and smaller preparatory drawings and mixed media studies. He, also, has produced over 100 commissions and has printed more than thirty editions of original prints.
Freeman displayed talent as a young child and begin drawing and painting lessons at age nine. He continued to work in watercolors and oils before switching to acrylics and mixed media as a teenager.
After earning an Associate of Fine Arts from Gaston College in 1978, he transferred to East Carolina University and earned a B. S. Degree in art education and a Master of Arts in printmaking with additional study in drawing and illustration.
Freeman studied with Donald Sexauer at ECU and, also, credits the work of Winslow Homer, Claude Monet, Georgia O'Keefe, Grant Wood, and Andrew Wyeth with influencing his painting style.


---
John 3:16 teaches us: "For God so loved the world, that He gave
His only begotten Son, that whosoever believeth in Him should not perish, but have everlasting life."