Welcome to Online Art Center .com
Your best source for online art information and links to
artists, art museums, art books, and arts and craft supplies.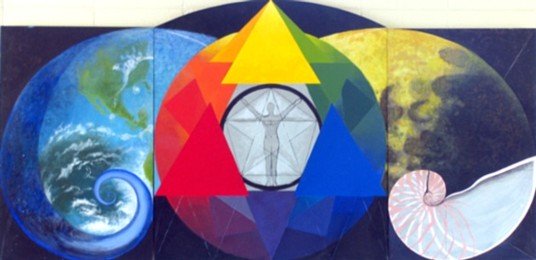 Foundations of Art by Gary Freeman & Design I Students



The Purpose for Online Art Center: My intention here is to provide, easy-to-understand - how to, information on the foundations of art, including color and design fundamentals, the art elements, the principles of design, art media and techniques, and topics in art history for art students, beginning artists, and collectors.
Mission Statement: The primary function of Online Art Center's web pages is to provide introductory level content presented in a manner that develops an interest towards deeper study and fuller appreciation of art and design.
Supplementing the educational materials within each area are recommendations and direct links to quality resources elsewhere on the internet and within other forms of off-line media.
*Online Art Instructors* One of the main goals for this web site is to provide open courseware in art education for online instruction of basic design, art appreciation, art history, and other visual arts disciplines. Please feel free to link to any of my pages for your online discussions and other internet learning activities. Copyright permission is available for non-profit educational use.
If you find this website useful, please consider helping with its production
with a donation.

"A thinking person's website, no hype - no fluff - no banners or pop ups, just the best insider information on making, teaching, or collecting art."

This site is constantly under construction. There are so many great art topics for study, that I'll continue to add more all the time.

Please take your time, browse, and return again for more updates.
---
Table of Contents
Selected painters and printmakers, available original works, drawings, paintings, prints, photographs, art gallery, Met
Selected links to the best art education web sites and artist resourses. Fine Art Search Engines, Art Museums and Galleries, Art Books, Arts and Craft supplies and materials. Recommended Art Links
Art Books, Links to New and Used textbooks, Art Appreciation, Art History, Design, Drawing, Painting, text books, Amazon, amazon.com
Art Materials, art supplies, art and craft supplies, resources for art educators, artists, and art students, In assocation with Dick Blick Art Materials
An easy-to-understand description of color and design, art elements, and the principles of design for students, beginning artists and collectors.
An easy-to-understand description of art media and techniques for art students, beginning artists, and art collectors.
Notes on Drawing Media and Techniques including Charcoal, Graphite, Pen and Ink, Ink Wash, and Mixed Media. Leonardo da Vinci's drawings
A easy-to-understand description of printmaking techniques, original print vs. reproduction, giclee prints, Albrecht Dürer
An easy-to-understand description of painting media and techniques for art students, beginning artists, and art collectors. Art and crafts supplies. Selected links to the best sources. Acrylics, oil
Photography as Art, History of Photography, Processes, styles and movements, Ansel Adams
How to present your art at its best and be more successful in getting your work accepted into juried art exhibits. Things you should know about framing and showing your artwork.
What is Architecture? An easy-to-understand introduction to architecture as art for online study. Frank Lloyd Wright, Fallingwater, Louis Sullivan, online learning, links, free notes, design basics
Online Art Instruction, Links to the best art history resources. OCW - Open course ware for internet art courses, Art Appreciation, Art History, Art Education, Link to my discussion forum pages
Christian Art and Artists, Links to great articles on Christian Art, Norman Rockwell, and Contemporary Art, Religious artwork and posters,
Your source for online art information and links to dog art, horse art, posters, greeting cards, and free clip art. LighterSide, Lighter Side Artwork
Center for Distance Learning: Your best source for open courseware for online instruction of art appreciation, art history, design fundamentals, and other visual arts courses. Free notes, art links
Online Art Center