Introduction to Architecture
"The space within becomes the reality of the building"
Frank Lloyd Wright, Architect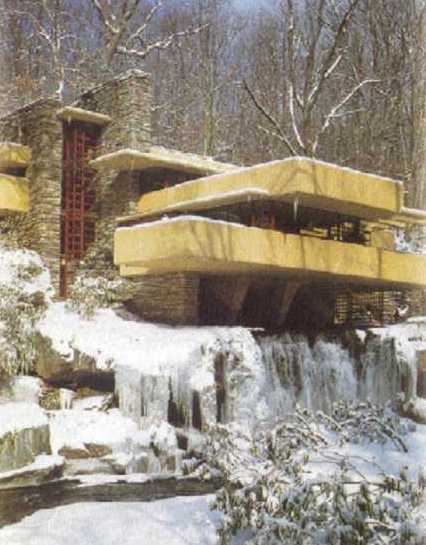 Frank Lloyd Wright (1867 - 1959), Fallingwater, Kaufmann House,
Bear Run, Pennsylvania, 1936.
What is Architecture?
Architecture is the art of building. It satisfies a basic, universal human need for shelter.
An architect is an artist who designs structures to enclose residential, commercial, or public space. Architects work with construction technologies, building materials, topography, contractors, and governmental regulations within a project budget to satisfy their clients' wants and needs.





Recommended External Links
Architecture as Art
A Sanford Lifetime of Color Web site and ArtEdventures developed by Educational Web Adventures

Arcspace - Architecture online
"Architectural news, reviews, photos and articles about famous architects, buildings, the architecture park, exhibitions, events, links and much more."

GaryFreemanArt.com Architectural Studies and Landscapes by American Artist, Gary Wayne Freeman

The Gothic Style
Gothic Dreams - An Earthlore Explorations Webpage

The Great Buildings Collection
GreatBuildings.com - The leading architecture reference site. "This gateway to architecture around the world and across history documents a thousand buildings and hundreds of leading architects, with 3D models, photographic images and architectural drawings, commentaries, bibliographies, web links, and more, for famous designers and structures of all kinds. For up-to-the-moment coverage of the latest buildings, designers, ideas, and trends, GreatBuildings.com is richly cross-linked with ArchitectureWeek, the leading architecture magazine online." - Artifice, Inc.

Louis Sullivan: The Architect and His Work
The Life of architect, Louis Sullivan; A guide to his buildings; Links to other general-interest Louis Sullivan pages.

Frank Lloyd Wright: The Man
The Frank Lloyd Wright Foundation is committed to advancing the ideas and principles of organic architecture, organic education, and conservation of the natural environment. The Foundation also seeks to preserve and enhance the lifetime contributions and ideas of Frank Lloyd Wright, and make available to the public opportunities to study and experience organic architecture.

The All-Wright Site: A Frank Lloyd Wright Internet Guide
This site offers a complete guide to Frank Lloyd Wright's built work, along with pages concerning other aspects of this important architect, such as his life and quotations. Also included in these pages are hundreds of organized links to other sites of Wright and related interest.
This site is intended to encourage and assist in the appreciation and study of Wright and his important work.
"The greatest artist this country has ever produced seems at last to be coming into his own. America's other great artists - our painters, sculptors, composers - don't really rank with the tops of all time. They're not Rembrandt or Michelangelo or Beethoven. Wright alone has that standing." - Robert Campbell, architectural writer

Return to Online Art Center.com homepage