The Art of Christo
and Jeanne-Claude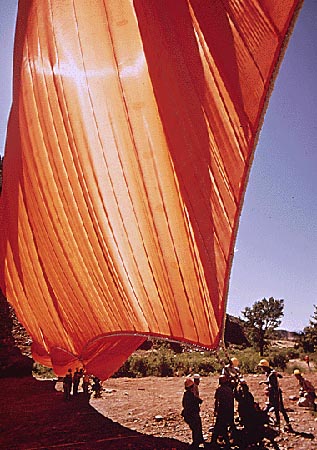 Christo and Jeanne-Claude, Valley Curtain Project,
Rifle Gap, Colorado, 1970-72. (Image courtesy the National
Archives and Records Administration. ARC Identifier: 544851.)
Click on the image above to view The Valley Curtain web page.
Recommended External Links
The Art of Christo and Jeanne-Claude
The official website which features photos, information and history. It is their hope that art students and enthusiasts will find this web site useful and enjoyable.


The Gates

Central Park, New York City, 1979-2005.


The Umbrellas

Japan - USA, 1984-91.



---


* Online Art Instructors: This page provides a link to the artists' official website. Its purpose is for open course ware in art education for online instruction of art appreciation and art history. Please feel free to link to this page for your online art courses.