Andrew Wyeth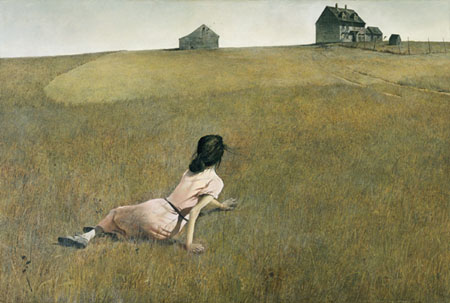 Christina's World. 1948. Tempera on gessoed panel, 32 x 48"
The Museum of Modern Art, New York. Please click on the image above to view the Museum of Modern Art web page on Andrew Wyeth.



Who is Andrew Wyeth?
This page is in honor of one America's most beloved artists, Andrew Wyeth, whose masterpieces of content and form have helped to shape representational art in the world today.
For more on the Wyeth family of artists, view the
The MBNA Wyeth Center at the Farnsworth Art Museum web site.
For a MoMA Learning lession on Christina's World, view
MoMA.org - The Museum of Modern Art


Winter 1946 - NC Museum of Art

Andrew Wyeth Original Works The Official site for Andrew Wyeth's Representative, Frank E. Fowler. This site includes available original works. It also includes a Chronology of Exhibitions of Andrew Wyeth's work beginning in 1936. Frank Fowler has represented Andrew Wyeth for more than thirty years in the placement of his original artwork.

Mint Museum Exhibition: Andrew Wyeth: The Helga Pictures